A Modern Landscape from the GTA's Renowned Commercial Landscape Design Firm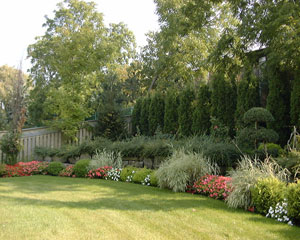 When you're looking for new commercial property landscaping, there is no commercial landscape design firm that is more qualified than Trillium Associates. Our award winning designs and extensive experience working alongside commercial property owners and condominium boards of directors has lead to extensive recognition as the commercial property specialist.
Rely on our seasoned team to provide expert solutions that combine quality craftsmanship, expertise, and creativity.
Create Outdoor Spaces that Draw People In
Your landscaping sets the tone for your entire property. You can completely enhance your architecture and overall curb appeal by taking advantage of our range of design & project management services :
Natural looking waterfalls and ponds
Natural stone or interlocking patios and walkways
New playgrounds and playground renovations
Gardens designed for low maintenance
Retaining walls constructed for longevity
Paving, resurfacing, curb & sidewalk repairs
and much more
Make Your Residents, Tenants, or Employees Feel at Home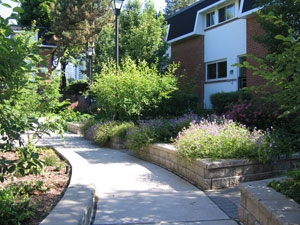 The atmosphere of a location- often comprised by many intangible qualities- contributes largely to the perception of a property. Landscaping- or the lack thereof- is something that can make a large impact on the feeling that a property projects.
Increase the satisfaction of your unit owners or tenants by giving them outdoor living space that makes them proud to call your community home, or Impress potential renters or increase the satisfaction of those who work at your property.
Preview Your Complete Project Using 3D Imaging
You will not have to struggle to visualize a blueprint style drawing as your outdoor property- each one of our designs can be previewed as a digital rendering. We aim to make it as straightforward as possible to ensure that you get the exact result that you're after.
Project the Image You Want With a New Landscape