Award Winning Condo & Commercial Landscape Design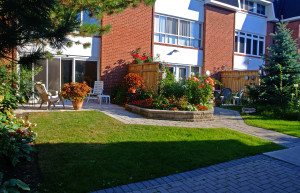 Over the past two decades, our clients have benefited from award winning projects that make sites easier to maintain, fix underlying site issues, and give residents and tenants a place that they are proud to call home. Since 1993, our team has provided property managers and boards of directors with the most professional solutions to commercial landscaping- solutions that combine quality craftsmanship, expertise, and creativity.
Expertise Built Over Three Decades
Experts in Design and Engineering come together to form our leading firm, and our team has remained for the most part unchanged over the past decade.
Because of this extensive experience and in-house expertise, you benefit from a team that has dealt with the full myriad of issues facing property managers.
Recognized Leaders in the Commercial Field
Whether you know exactly what you need or you're looking to invest condo or tenant fees back into the property, Trillium Associates can provide you the recommendations to make the greatest impact and improvement with your investment.
We specialize in:
We make it as simple as possible to capture the exact result you require. Each of our plans can be previewed prior to construction through a digital rendering, making it easier to visualize plans than a standard blueprint.
Benefit From Detailed Recommendations. Get a Consultation Now
Contact us today to get a consultation for your commercial landscaping project.